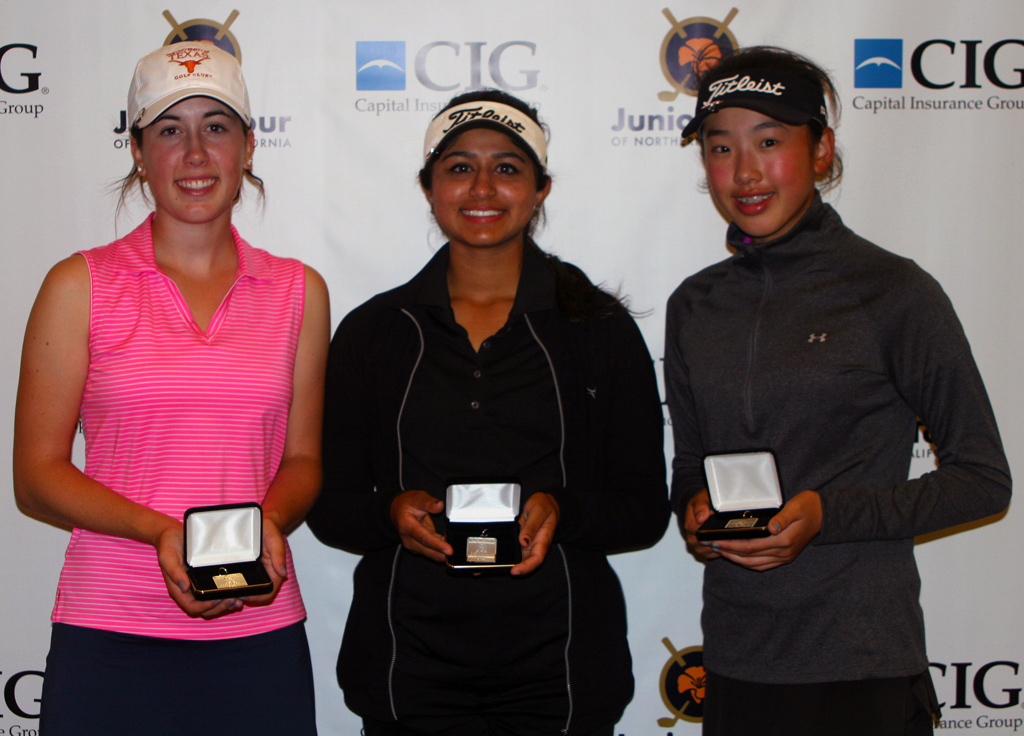 Junior Tour Fall VIII: Poppy Ridge GC
Livermore, CA
October 17-18, 2015
Contestant Information Sheet | Yardages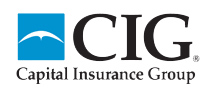 CIG-Sponsored Junior Golf Tour of Northern California Crowns Winners in Fall Series VIII Championship at Poppy Ridge Golf Course
PEBBLE BEACH, Calif. (October 23, 2015) –Sponsored by Capital Insurance Group, the 2015 Junior Tour of Northern California (JTNC) crowned champions Sunday at the Fall Series VIII  Championship at Poppy Ridge Golf Course in Livermore.
Palo Alto resident Ahmed Ali shot 4-under 140 and Folsom resident Emilee Hoffman shot 3-over 147 to win their respective divisions at the Fall Series VIII Championship held Saturday and Sunday at par-72 Poppy Ridge Golf Course.
Ali picked up his first win of the season thanks to an impressive first round 4-under 68.
Ali, who played with his brother at this year's U.S. Amateur Four-Ball Championship at the Olympic Club, started strong by carding five birdies to go against just one bogey in the opening round.
In Sunday's second round, Ali fell back to a 72, but it was good enough to defeat runner-up Scott Mitchell of Santa Rosa by a stroke.
A day after his 68, Ali had six birdies to go with four bogeys and a double-bogey. Following a double-bogey on the par-4 15th, it appeared that Ali's lead was in jeopardy. He'd bounce right back, however, carding two critical birdies on the 16th and 17th holes to stay in the lead.
Trying to chase down Ali was Mitchell. Coming off a wild first round 75, Mitchell turned on the jets—posting a tourney-low 6-under 66. After opening with a 1-under 35, Mitchell penciled in a flawless back-nine 31 that featured five birdies and zero bogeys.
Taking third place in the Boys' Championship at 142 following his second straight 71 was San Jose resident Lucas Carper.
Three players—George McNeely of Carmel, Ryan Johnson of Yountville and Ashkaan Hakim of San Ramon—all finished tied for fourth at 143. McNeely, like Mitchell, also had a big turnaround, going from an opening 74 to a 69. Johnson and Hakim had final rounds of 70 and 72, respectively.
Isaiah Choi of San Ramon went the other way. Choi took the first round lead with a sparkling 67 that included an eagle (on the 18th) and five birdies to go against just two bogeys. He'd finish with an 82, however, to land in a tie for 16th.
The Girls' Championship had an even crazier finish.
There, Hoffman finished tied at 147 after regulation with Simar Singh of Los Altos and Yealimi Noh of Concord.
The trio went to a sudden-death playoff, with Hoffman finally taking the title after draining a 20-foot birdie putt on the sixth hole. The three all made pars on the first five holes of the playoff.
Singh, winner of this year's California Junior Girls' State Championship, was awarded second place in a card-off. Noh, who won the California Junior Girls' title in 2014, took third.
Following Saturday's first round the three formed a logjam atop the leaderboard, with Noh in the lead at 71, Hoffman in second at 72 and Singh third at 73.
On Sunday, Noh slipped back to a 76, with Hoffman shooting 74 and Singh 75. All three had a chance to win it in regulation, but all three would card a double-bogey on the 18th.
For Hoffman, it was her second win of the season. She also captured the Fall Series IV Championship.
Finishing in fourth place at 149 was Yoonhee Kim of San Ramon.  A day after carding an 80, Kim caught fire, posting a 69 that featured four birdies and just one bogey.
Coming in tied for fifth at 150 were Belinda Hu of San Ramon and Amanjoty Sangha of San Mateo after final rounds of 75 and 76, respectively.
There wasn't as much drama in the Boys' First Flight Championship.
Jeremy Choi of Fremont took the title by seven shots, coming in at 149 after a solid 69. A day after opening with an 80, Choi got going, posting six birdies to go against three bogeys.
Taking second place at 156 was Jay Thomas of Moraga after a second round 80.
Third place went to Anthony Ha of Palo Alto at 158 following a 77, while Lawrence Fu of Palo Alto and Jacques Le of San Jose finished tied for fifth after identical final rounds of 80.
Over in the Girls' First Flight Championship, it was another tight finish.
Jasmine Chen of Pleasanton, Irene Jun of San Jose and Steffi Lin of San Ramon all finished tied after regulation with scores of 161. In the playoff, Chen prevailed as champion, with Jun taking second and Lin placing third in a card-off.
Chen had rounds of 81-80. Jun and Lin had final round scores of 82 and 84, respectively.
Finishing in fourth place at 163 was Priya Bakshi of Palo Alto after an 84, while Liam Sklar of Los Gatos was fifth following an 82.
Next up on the 2015-2016 calendar is the Fall Series IX Championship, to be held Oct. 24-25 at Rancho Murieta Country Club in Rancho Murieta.